Earning with Fiverr
Fiverr is the world's largest marketplace for digital services. This document tells us how to join Fiverr, make an account on it and how to use it. First of all, connect your computer to the internet and search this link "https://www.fiverr.com" in your browser. The page will be open which shown in fig.1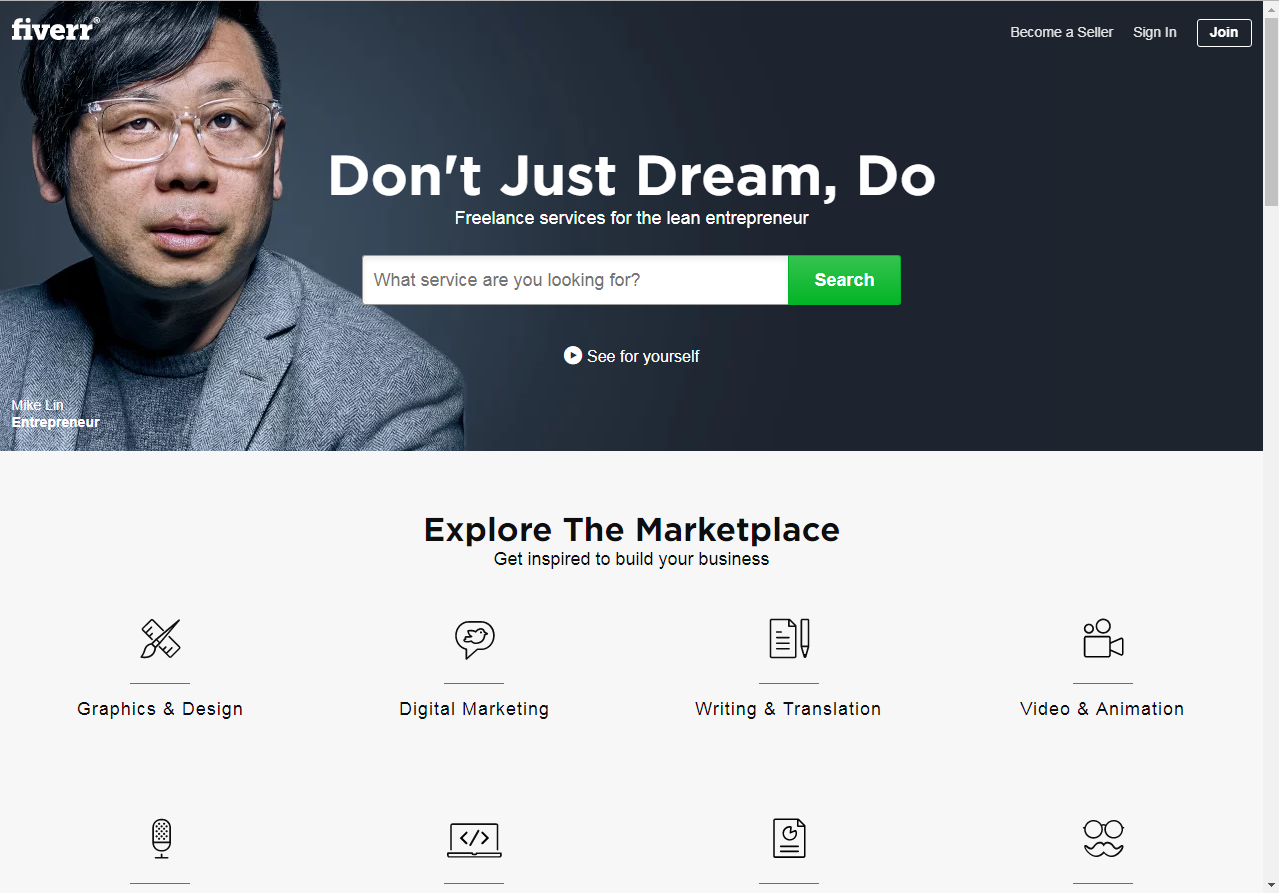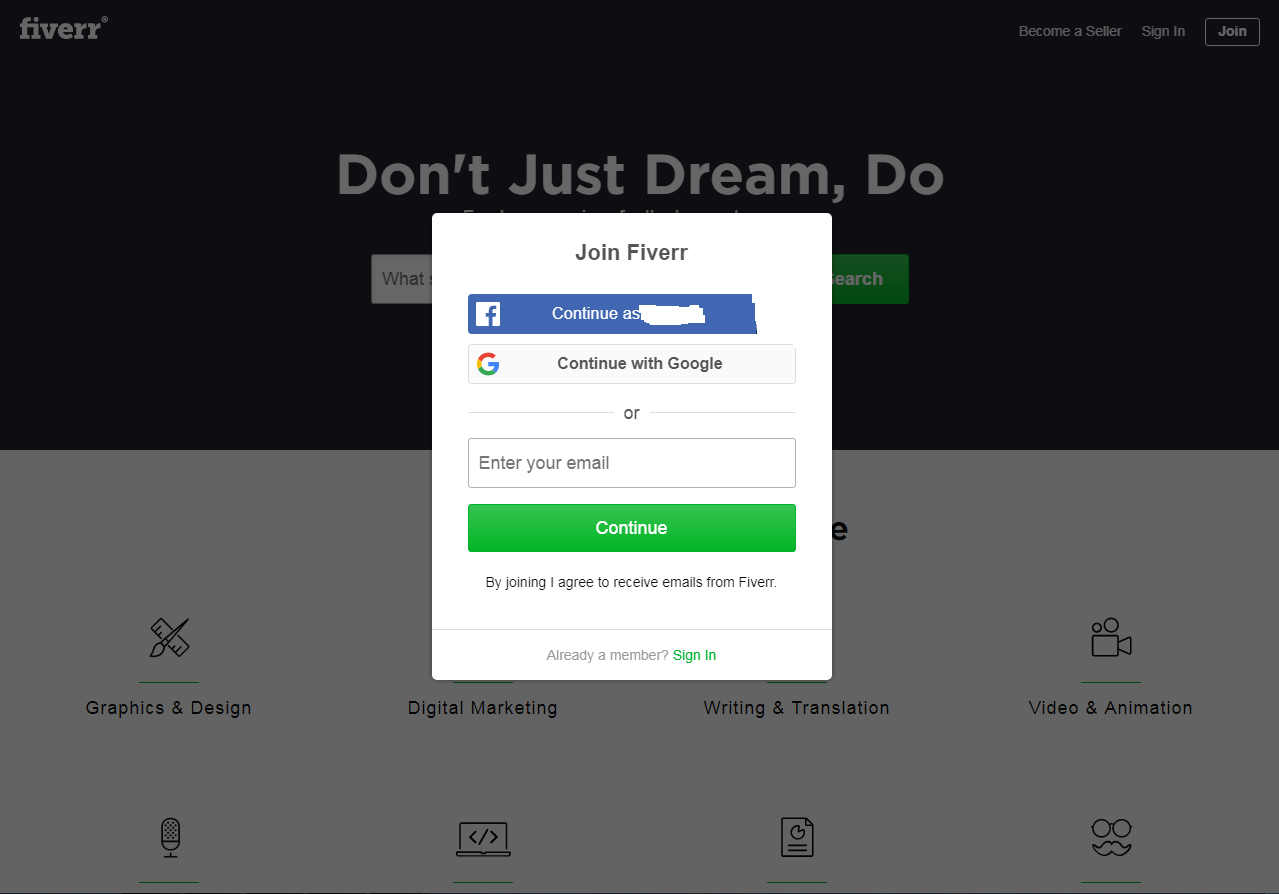 At the right top corner of that page, there will be an option of "JOIN" just click it and there will appear a popup box that shown in the figure.2
If you already have an account on Fiverr then, click on "sign in" at the bottom of that popup box. Then you will enter your E-mail and password that will login to you in the main page of Fiverr. And if you don't have already an account on Fiverr then there will be an option to continue as facebook account or continue with Google account. When you continue with facebook then you should enter your facebook id and facebook account password. Then the new window opens, that shown in figure 3.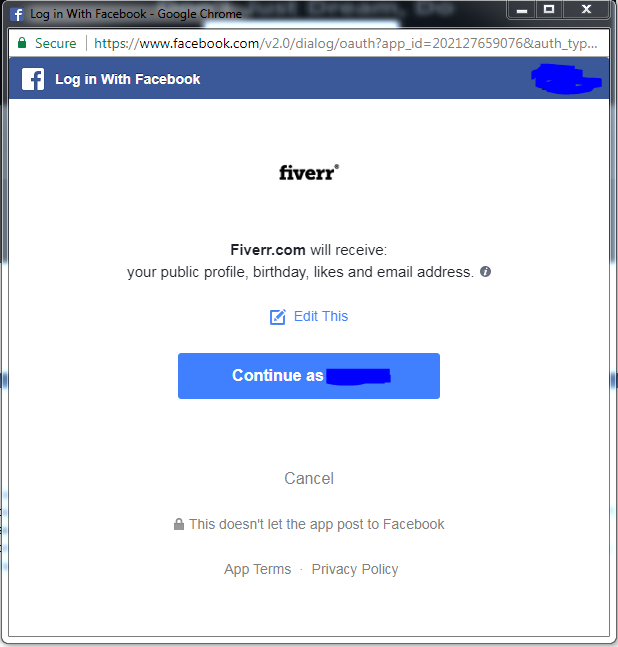 And if you don't want to log in with facebook account then enter your E-mail address and click CONTINUE. Choose a USERNAME that will contain minimum 6 alphabets and maximum contains 15 alphabets. Make sure that your name should be unique, no one other have that username. The Fiverr website matches your entered username with their database to reduce redundancy or duplication.
Then enter your Password that should be minimum of 8 characters and contains a maximum of 30 characters. That's the combination of upper and lowercase letters and numbers.
Now you are registered member of the Fiverr platform. After doing all that open your E-mail ID you got a message from fiver that has a link to ACTIVATE YOUR ACCOUNT. Signing up for Fiverr is free. Only registered users can buy and sell on Fiverr.
When your account activate, then the main page opens that shown in figure 4
You can search your required services in the "Find Services" search bar. A service offered on Fiverr is called Gig. Sellers have the option to choose their starting price point. Sellers can even offer multiple price ranges by using Gig Packages. With Gig Packages, they can offer buyers different service packages at different prices.
You can find the services you need by browsing the Fiverr catalog in different categories or by using the search to find a specific service or seller. Once you find a Gig you like, click it for more information, such as a description of the service, portfolio or samples of work, and pricing. When you feel you've found what you need, simply proceed with placing your order.
Buying On Fiverr
If you are finding your required services you can also find that in categories bar. That shown in figure 5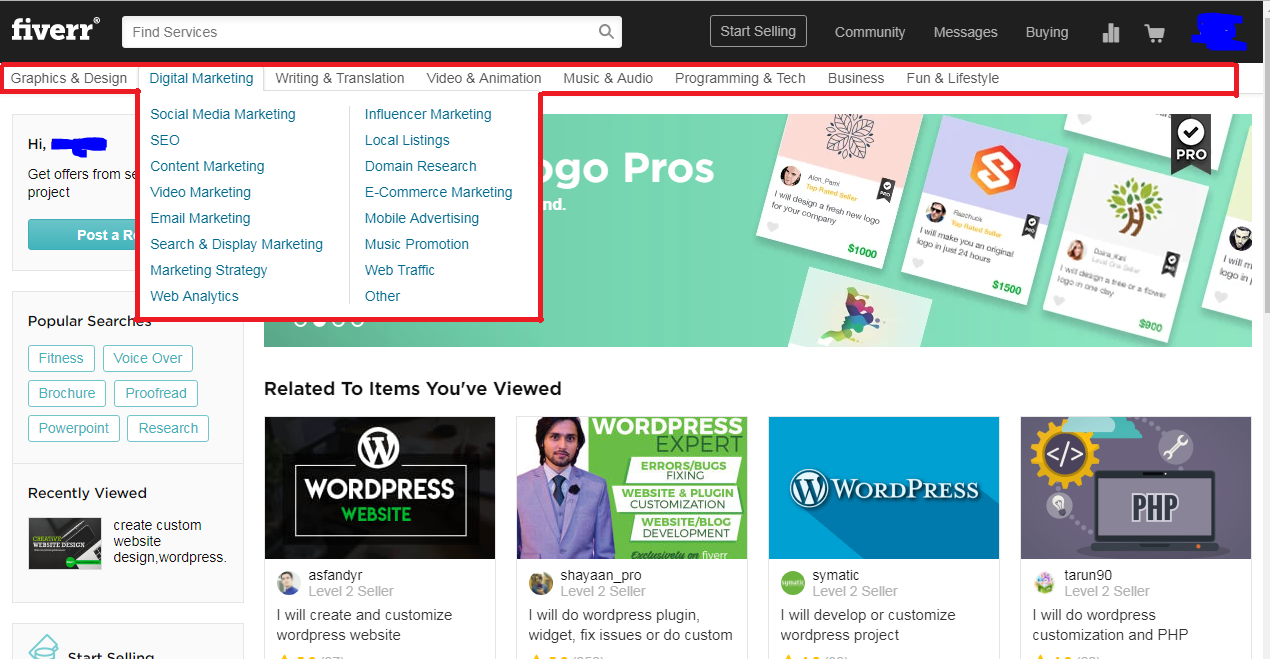 Ordering a Gig on fiver:
Simply go to a seller's Gig page and click the Proceed to Order button and, if available, select the package you wish to buy. In the Order Details page, you will be able to add extras to your purchase (if offered), select multiple units of the Gig, or select the account from which to buy.
Fiverr Pro:
Offers you access to hand-vetted, high-quality talent at a relatively affordable rate. You can now collaborate with verified professionals that come with excellent credentials and extensive experience.
Contacting Sellers:
Before you order a service, or if you just have a general question, you can contact the seller beforehand. Contacting sellers can only be done while logged in to Fiverr.
Cancellation process:
Buyers may contact Customer Support at any time to review your order for advice on how to proceed with their orders. Customer Support team will take many factors into consideration, such as the seller's ratings, responsiveness, and past order history to assess the most appropriate action to take. In most cases, buyers are directed to communicate further with their sellers if there's no justifiable reason to cancel the order.
Selling On Fiverr
Creating a Gig on Fiverr:
Your Gig is the service that you sell on Fiverr. Creating your Gig is an opportunity to show off your talent and provide buyers with all the information they need to help them decide to do business with you.
To create a Gig:
1. After you log in, click Selling > Gigs.
2. Click CREATES A NEW GIG.
Limiting Orders in Queue:
If you are very busy or cannot handle a large number of orders, you can set a limit on the orders you can receive. Once the limit you set is reached, your Gig will be paused. This allows you to properly handle orders while continuing to provide great service.
1. To limit the number of orders in your queue:
2. After you log in, click Selling > Gigs.
3. To set an order limit, click a Gig title.
4. Click to turn on the LIMIT ORDERS IN QUEUE feature.
Sending Offers:
To send an offer:
1. Once logged in, from the main menu, click Messages > Inbox and then click See All in Inbox.
2. Open a message within the list.
3. Click Create an Offer.
4. If you have more than one Gig, select an existing Gig to offer.
5. Describe your offer by including all the necessary details.
6. Select whether you would like to deliver in one delivery or with Milestones.
Withdrawing Funds:
When you have a balance in your seller account, you can withdraw your funds to either your PayPal account, credit your Fiverr Revenue Card, or transfer money to your bank account ("Direct Deposit" in the U.S.).
How to withdraw funds from your Fiverr account?
1. Once logged in, click Selling > Earnings.
2. If you have money available in the Available for Withdrawal area, then you have three possible options to withdraw funds.