Comparison of shared hosting of Bluehost and GoDaddy
Bluehost and GoDaddy are the experienced website hosting service providers trusted by millions. Although the selection criteria of different peoples are different depending upon their thoughts and their way of thinking while selecting any of the web hosting services the preference must be given to the one that is more reliable and has more experience. Before selecting any of the web hosting services and analysis must be done by comparing different hosting services so here is the comparison between hosting of Bluehost and GoDaddy.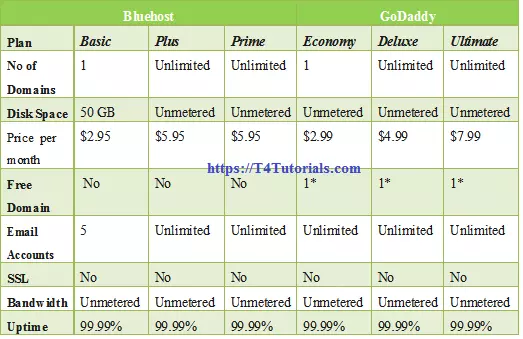 Bluehost
Bluehost was founded in 1996 and it is owned by Endurance International Group (EIG). Its main focus is on web hosting services.
The uptime percentage of Bluehost is significantly 99.9% No one likes their sites or blogs to be down for long as per their performance and the actual uptime performance does have a strong bearing.
The response time of Bluehost is considered to be more reliable and efficient then GoDaddy.
Bluehost runs on AMD power centers and uses CPU segregation technology that enables the Bluehost to efficiently controls the CPU and protect the web from viruses and spam attacks.
The response time of the bluehost is remarkable and anyone can rely on their team support as they provide a very timely response as and when it is required this feature makes their rating up high then GoDaddy.
Bluehost allows you to manage multiple sites easily with access to unlimited MySQL database.
Bluehost plan provides the money back guarantee for at least 30 days for all their hosting plans with a pro-rated refund policy, and you can switch to any other web host if you are unsatisfied.
Bluehost provides only Linux hosting. The cheapest price for the bluehost plan is 2.95$ p/m for the started shared hosting plans on a three-year subscription.

With regard to the other hosting plans, especially the premium ones, Bluehost is more expensive than GoDaddy.
With Bluehost, you do not have the flexibility to subscribe to any of their shared hosting plans for the short term. You can only use the one-year, two-year or three-year subscription options with them.
GoDaddy
GoDaddy was founded in 1997 and almost have the same amount of experience.
It offers other services in addition to web hostings, such as domain registration and SSL certificates.
It becomes the world largest ICANN-accredited register in 2014, with over 59 billion domain names under its own management.
It also offers several small online businesses.
It has been known for its aggressive advertising, for example, it's Super Bowl Ad.
GoDaddy's actual uptime percentage is less than Bluehost and so you ought to prefer Bluehost for their very high uptime.
There are several complaints about GoDaddy about the outage or downtime. Because of this GoDaddy can control the maximum amount of traffic because of low server response time.
GoDaddy's servers operate on Intel Core i7 processors and you can select between Windows OS or Linux OS when you can avail their services. In terms of performance and efficiency, both web hosts seem to be pretty similar.
In GoDaddy, you can access a limited MySQL database with its shared hosting plans.
GoDaddy doesn't offer automatic backup from its cPanel.
According to GoDaddy, you can purchase the GoDaddy hosting plan for almost 45 days with a deal that if you are not satisfied you can change it. This high money back guarantees time period that is offered by GoDaddy shows their degree of confidence in their own services.
GoDaddy provides plans for Linux and Windows hosting. In the comparison of GoDaddy and Bluehost in a Linux system, GoDaddy is an undisputed winner as it can operate in multiple systems.
The minimum price for a GoDaddy plan is $3.99 per month (for the GoDaddy Economy plan with a three-year or two-year subscription).
Their plan allows you to subscribe to their shared hosting plans for a shorter time period, like for three months or even shorter time like one month (except for the GoDaddy Economy plan).
After completing the comparison of Bluehost and GoDaddy now we should summaries the comparison in a few points.
In uptime comparison and speed BlueHost WINS.
In Performance both are equal.
In customer support, BlueHost WINS.
In control panel both are equal.
In money Back guarantee GoDaddy WINS.
Concluding all Bluehost is far better and more reliable then GoDaddy as the comparison shows.