General Knowledge MCQs for Commission test
(1) The tax which is not shared between Provicial & Central government is……
a) Sales Tax
b) Property Tax
c) Custom Tax
d) Excise Tax
e) None of these
(2) Total number of District in KPK Province…..
a) 27
b) 35
c) 26
d) 36
e) 15
(3) Which is known as direct tax…..
a) Custom tax
b) Income tax
c) Property tax
d) Excise tax
e) Sale tax
(4) Name the National Mammal of Pakistan…….
a) Arabian Sea Dolphin
b) Arabian Sea Shark
c) Indus Sea Shark
d) Indus Sea Dolphin
e) None of these
(5) Preparation of budget in government……
a) Anually
b) Monthly
c) Weekly
d) Daily
e) All of the above
(6) In Pakistan Flag Green field represent…….
a) Muslim Majority
b) Muslim Minority
c) Minority
d) A and B
e) None of these
(7) Name the last governor general of Pakistan…..
a) Ayub Khan
b) Yahya Khan
c) Liaquat Ali Khan
d) Skindar Mirza
e) Ghulam Muhammad Khan
(8) The design of Pakistan flag is given by…..
a) Ahmed Ghulam Ali Chaghla
b) Amir uddin Kidwai
c) Gul G
d) Hafeez Jalandhri
e) None of these
(9) Name the country which first signed Defence Pact with Pakistan……
a) Iraq
b) Iran
c) Turkey
d) Saudi Arabia
e) Tehran
(10) The National animal of Pakistan is……
a) Markhor
b) Lion
c) Tiger
d) Cat
e) Cow
(11) The finance of government is known as……
a) Private Finance
b) Government Finance
c) Public Finance
d) A and B
e) None of these
(12) The city of Pakistan known as Paris of Asia……
a) Islamabad
b) Karachi
c) Lahore
d) Multan
e) Peshawar
More MCQs on
General Knowledge
PTS general knowledge MCQs
general awareness MCQ questions
GK MCQs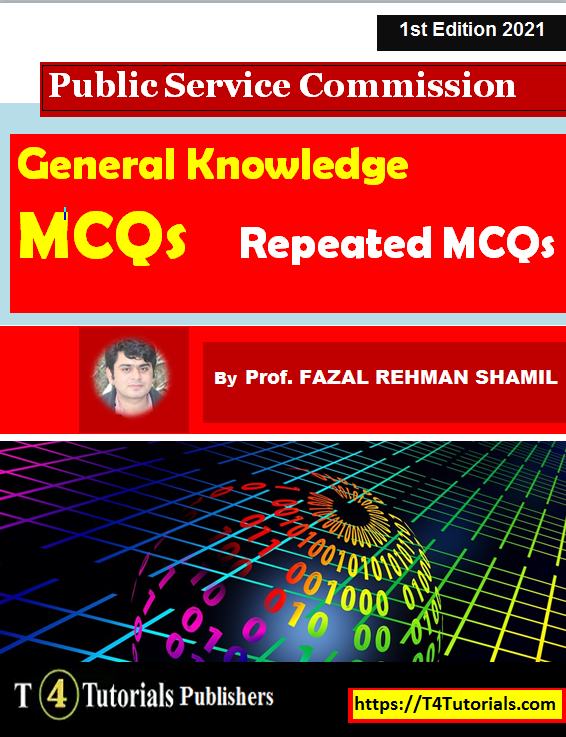 MCQs collection of solved and repeated MCQs with answers for the preparation of competitive exams, admission test and the job of PPSC, FPSC, UPSC, AP, APPSC, APSC, BPSC, PSC, GOA, GPSC, HPSC, HP, JKPSC, JPSC, KPSC, KERALAPSC, MPPSC, MPSC, MPSCMANIPUR, MPSC, NPSC, OPSC, RPSC, SPSCSKM, TNPSC, TSPSC, TPSC, UPPSC, UKPSC, SPSC, KPPSC, BPSC, AJKPSC ALPSC, NPSC, LPSC, SCPSC, DPSC, DCPSC, PSC, UPSC, WVPSC, PSCW, and WPSC.