Prime Minister's Secretariat, Islamabad
46000 Pakistan
July 5, 2023
To
Mr. Nasir Zaidi
Central Park Ferozpur Road Lahore
Subject:  Plot No. 45 F to Jinnah Villas Garden Town Lahore Possession
Dear Mr. Naser Sahib,
Your letter No. PK-3486-14-23 has been received in which a letter has been received from you in the Complaints Cell regarding the illegal occupation of the occupation group on the above plot owned by you, which is in the light of the order of the Prime Minister of Pakistan. Instructions have been issued to the departments, and a letter in this regard has been sent to the Ministry of Interior Punjab along with the allotment letter of the said plot and other documents, with a diary number of 658/04/23C. We were informed with a letter of inquiry according to which the occupation of a few obscene persons on your plot located at 45Y2 Robert Town Lahore has been recognized as valid, in the light of the inquiry of the Ministry of Interior. CCPO Lahore and On the orders of IG Office Lahore, an FIR has been registered against the accused in the Robert Town police station and teams have been formed to arrest the accused in the initial investigation.
Police tried to contact you several times through mobile phone but due to your non-availability, the police investigation is stalled, Therefore, you are informed by letter that your written letter (complaint) has been acted upon by the Prime Secretariat Islamabad Office. You should immediately refer to the concerned police station, so that your action is taken to reach the completion.
Action has been taken, you should immediately approach the concerned police station so that your action is completed.
In this context, let us inform you that in the preliminary investigation of the police, it has been revealed that the possession mafia group has been occupying the public and private properties in various societies and areas of Lahore for a long time. Complaints have been received in various police stations before, and some members of the said gang are currently serving sentences in Lahore's Central Jail and Kot Lakhpat Jail, the gang has the support of a minister and an MPA of the former government. While the current government has taken concrete and effective measures to eradicate other crimes. It is also dealing with the land mafia and the occupation group with strictness.
Therefore, the support of the people is indispensable for the removal and remedy of the occupying group. This month, the government took action on more than 450 complaints against the occupying groups, and government and non-government properties were handed over to the real owners of the property.
You are informed by letter to immediately cooperate fully with the police in the redressal of your complaint, so that your complaint can be processed and the demands of justice can be met, thank you.
your sincerely
Sajid Shakeeb Khokhar
PRO to Principal Secretary
Prime Minister Secretariat Islamabad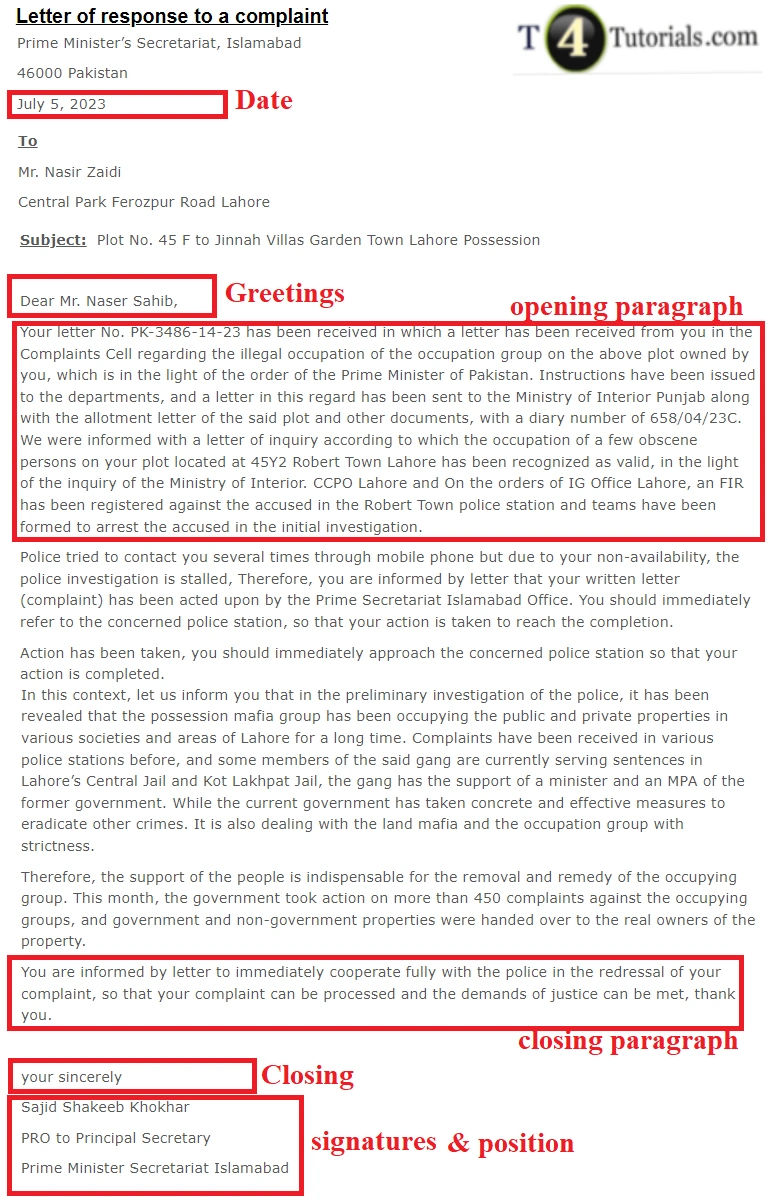 Letters