Write a program in C++ to print Floyd's Triangle by using the friend function.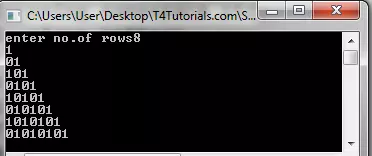 If we declare a function friend int show(T4Tutorials_Floyds_Triangle);as a friend in a class T4Tutorials_Floyds_Trianglethen this function int show (T4Tutorials_Floyds_Triangle a)can access the private and protected members of the class T4Tutorials_Floyds_Triangle.
You must know that a global function can also be declared as a  friend function of the class.
Syntax of friend function in C++
class class_name
{


…
friend return_type function_name(arguments);
…
}
1

2

3

4

5

6

7

8

9

10

11

12

13

14

15

16

17

18

19

20

21

22

23

24

25

26

27

28

29

30

31

32

33

34

35

36

37

38

39

40

41

42

43

44

45

46

47

48

class

T4Tutorials_Floyds_Triangle

cout

<<

"enter no.of rows"

;

friend

int

show

(

T4Tutorials_Floyds_Triangle

)

;

int

show

(

T4Tutorials_Floyds

_

Triangle

a

)

for

(

a

.

i

=

1

;

a

.

i

<=

a

.

n

;

a

.

i

++

)

for

(

a

.

j

=

1

;

a

.

j

<=

a

.

i

;

a

.

j

++

)

T4Tutorials_Floyds

_

Triangle

a

;
Output