Rhombus star pattern using class objects
Develop a C++ program to print the rhombus star pattern of N rows using for loop and class objects. How to print rhombus or parallelogram star pattern with the help of for loop in C++ sing the class objects.
What is the Logic to print parallelogram or rhombus star pattern series in C++ using the class objects?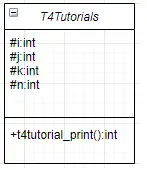 1

2

3

4

5

6

7

8

9

10

11

12

13

14

15

16

17

18

19

20

21

22

23

24

25

26

27

28

29

30
Output