Comparison of All degrees and Which degree is better for admission and job?
This data set is collected from applicants of lecturerPunjab public service commission jobs announced in 2020.
I try to show it graphically with charts that which subject is better for your future for getting good jobs. So you must read this article before getting admission to any program.
Comparison of degrees by Number of Students and Competition
| | |
| --- | --- |
| Subject | seats |
|  ENGLISH – FEMALE | 200 |
|  ENGLISH – MALE | 130 |
|  CHEMISTRY – FEMALE | 100 |
|  PHYSICAL EDUCATION – FEMALE | 100 |
|  MATHEMATICS – MALE | 100 |
|  URDU – MALE | 100 |
|  URDU – FEMALE | 90 |
|  CHEMISTRY – MALE | 90 |
|  EDUCATION – FEMALE | 80 |
|  ISLAMIAT – FEMALE | 80 |
|  MATHEMATICS – FEMALE | 80 |
|  PHYSICS – FEMALE | 80 |
|  HOME ECONOMICS – FEMALE | 75 |
|  PHYSICS – MALE | 75 |
|  ECONOMICS – FEMALE | 70 |
|  COMPUTER SCIENCE – FEMALE | 60 |
|  PSYCHOLOGY – FEMALE | 60 |
|  STATISTICS – MALE | 60 |
|  BIOLOGY – FEMALE | 50 |
|  POLITICAL SCIENCE – FEMALE | 50 |
|  STATISTICS – FEMALE | 50 |
|  ECONOMICS – MALE | 50 |
|  ISLAMIAT – MALE | 50 |
|  PHYSICAL EDUCATION – MALE | 50 |
|  COMPUTER SCIENCE – MALE | 40 |
|  EDUCATION – MALE | 40 |
|  COMMERCE – MALE | 30 |
|  POLITICAL SCIENCE – MALE | 30 |
|  HISTORY – FEMALE | 25 |
|  HISTORY – MALE | 25 |
|  GEOGRAPHY – FEMALE | 20 |
|  PUNJABI – FEMALE | 20 |
|  SOCIOLOGY – FEMALE | 20 |
|  BIOLOGY – MALE | 20 |
|  PSYCHOLOGY – MALE | 20 |
|  GEOGRAPHY – MALE | 18 |
|  BOTANY – FEMALE | 15 |
|  COMMERCE – FEMALE | 15 |
|  LIBRARY SCIENCE – FEMALE | 15 |
|  ZOOLOGY – FEMALE | 15 |
|  SOCIOLOGY – MALE | 15 |
|  ARABIC – FEMALE | 13 |
|  ZOOLOGY – MALE | 12 |
|  PAK STUDY – FEMALE | 10 |
|  PERSIAN – FEMALE | 10 |
|  SOCIAL WORK – FEMALE | 10 |
|  PUNJABI – MALE | 10 |
|  ARABIC – MALE | 8 |
|  BOTANY – MALE | 8 |
|  SARAIKI – FEMALE | 7 |
|  PAK STUDY – MALE | 7 |
|  FINE ARTS – FEMALE | 6 |
|  JOURNALISM – FEMALE | 6 |
|  JOURNALISM – MALE | 5 |
|  LIBRARY SCIENCE – MALE | 5 |
|  PERSIAN – MALE | 5 |
|  SARAIKI – MALE | 5 |
|  SOCIAL WORK – MALE | 5 |
|  PHILOSOPHY – FEMALE | 3 |
|  PHILOSOPHY – MALE | 3 |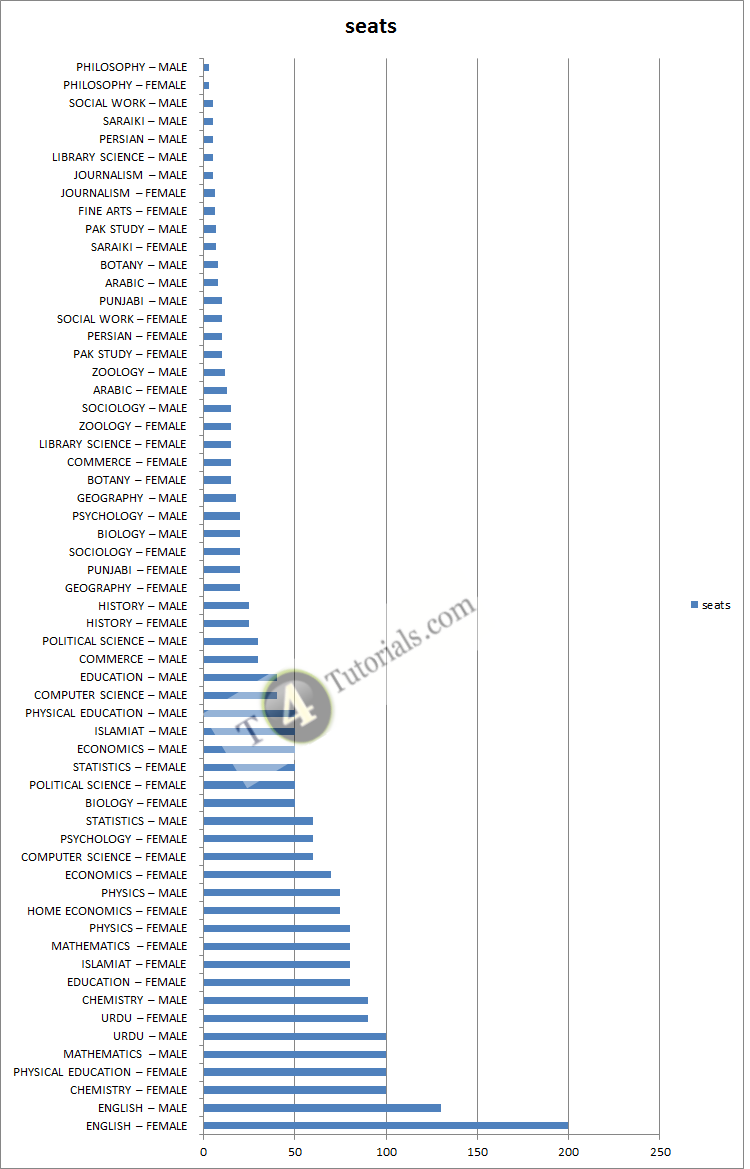 Comparison of degrees by Number of Jobs
| | |
| --- | --- |
| Subject | applicants |
|  ENGLISH – FEMALE | 27151 |
|  ENGLISH – MALE | 9577 |
|  CHEMISTRY – FEMALE | 20057 |
|  PHYSICAL EDUCATION – FEMALE | 9583 |
|  MATHEMATICS – MALE | 21870 |
|  URDU – MALE | 11008 |
|  URDU – FEMALE | 24662 |
|  CHEMISTRY – MALE | 32296 |
|  EDUCATION – FEMALE | 1076 |
|  ISLAMIAT – FEMALE | 1094 |
|  MATHEMATICS – FEMALE | 3670 |
|  PHYSICS – FEMALE | 1078 |
|  HOME ECONOMICS – FEMALE | 26855 |
|  PHYSICS – MALE | 1255 |
|  ECONOMICS – FEMALE | 805 |
|  COMPUTER SCIENCE – FEMALE | 17749 |
|  PSYCHOLOGY – FEMALE | 4065 |
|  STATISTICS – MALE | 244 |
|  BIOLOGY – FEMALE | 140 |
|  POLITICAL SCIENCE – FEMALE | 12932 |
|  STATISTICS – FEMALE | 9993 |
|  ECONOMICS – MALE | 6109 |
|  ISLAMIAT – MALE | 10133 |
|  PHYSICAL EDUCATION – MALE | 413 |
|  COMPUTER SCIENCE – MALE | 233 |
|  EDUCATION – MALE | 962 |
|  COMMERCE – MALE | 3244 |
|  POLITICAL SCIENCE – MALE | 3277 |
|  HISTORY – FEMALE | 40716 |
|  HISTORY – MALE | 11807 |
|  GEOGRAPHY – FEMALE | 2743 |
|  PUNJABI – FEMALE | 6259 |
|  SOCIOLOGY – FEMALE | 2231 |
|  BIOLOGY – MALE | 8693 |
|  PSYCHOLOGY – MALE | 12851 |
|  GEOGRAPHY – MALE | 23224 |
|  BOTANY – FEMALE | 4047 |
|  COMMERCE – FEMALE | 7896 |
|  LIBRARY SCIENCE – FEMALE | 10186 |
|  ZOOLOGY – FEMALE | 906 |
|  SOCIOLOGY – MALE | 3152 |
|  ARABIC – FEMALE | 10245 |
|  ZOOLOGY – MALE | 1028 |
|  PAK STUDY – FEMALE | 273 |
|  PERSIAN – FEMALE | 13881 |
|  SOCIAL WORK – FEMALE | 4205 |
|  PUNJABI – MALE | 169 |
|  ARABIC – MALE | 97 |
|  BOTANY – MALE | 5890 |
|  SARAIKI – FEMALE | 11058 |
|  PAK STUDY – MALE | 5519 |
|  FINE ARTS – FEMALE | 942 |
|  JOURNALISM – FEMALE | 420 |
|  JOURNALISM – MALE | 266 |
|  LIBRARY SCIENCE – MALE | 493 |
|  PERSIAN – MALE | 1788 |
|  SARAIKI – MALE | 1528 |
|  SOCIAL WORK – MALE | 13995 |
|  PHILOSOPHY – FEMALE | 3226 |
|  PHILOSOPHY – MALE | 4647 |