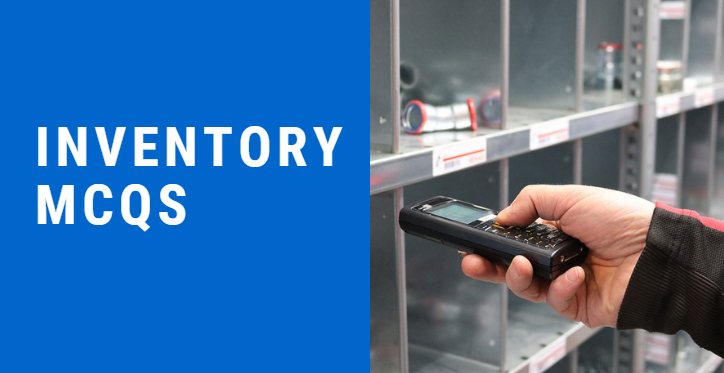 Here, i am sharing you some important inventory valuation MCQs, accounts receivable and inventory management MCQs, inventory accounting MCQs, inventory valuation methods MCQs and perpetual inventory system MCQs.
……….. is the term associated with inventory is called
A. Re-order costs
B. Purchase price of the inventory
C. Inventory holding costs, Shortage costs
D. All of the above
Which of the following accounts normally has a subsidiary ledger?
a) capital stock
b) accounts payable
c) retained earnings
d) supplies
Re-order costs are the costs of making orders to purchase a quantity of a material item from a supplier. Re-order costs include costs of which one of the followings;
A. The costs associated with placing an order, such as the costs of telephone calls
B. Costs associated with checking the inventory after delivery from the supplier
C. The cost of delivery of the purchased items, if these are paid for by the buyer
D. Batch set up costs if the inventory is produced internally
E. All of the above
Which of the following cot includes by Inventory holding costs?
A. Insurance costs
B. Cost of capital tied up
C. Cost of warehousing, obsolescence, deterioration and theft
D. All of the above
Shortage costs of inventory include:
A. Lost profit on sale
B. Future loss of profit due to loss of customer goodwill
C. Costs due to production stoppage due to shortage of raw materials
D. All of the above
Which of the following is not an inventory?
a. Raw material
b. Finished products
c. Both a and b
d. Machines
(Ans:d)
All of the followings classes of costs are usually involved in making the inventory decisions except ……..the cost.
a. Cost of ordering
b. Carrying cost
c. Machining cost
d. None of these
Ans:c
The cost of insurance and tax is included in which of the following costs?
a. Inventory carrying cost
b. Cost of ordering
c. Set up cost
d. None of these
Ans:a
'Buffer stock' is the level of stock
a. Half of the actual stock
b. Minimum stock level below which actual stock should not fall
c. At which the ordering process should start
d. None of them
Ans:b
Which of the following always recorded in the general journal?
a) closing enteries
b) purchases of supplies on account
c) rendering services on account
d) rendering services for cash
The minimum stock level is calculated as
a. Reorder level + (Nornal consumption x Normal delivery time)
b. (Reorder level + Nornal consumption) x Normal delivery time
c. (Reorder level + Nornal consumption) / Normal delivery time
d. Reorder level – (Nornal consumption x Normal delivery time)
e. None of these
f. c and d
Ans:d
Select the assumptions of Economic order quantity (EOQ)?
A. There are no bulk purchase discounts for making orders in large sizes. All units purchased for each item of material cost the same unit price.
B. The order lead time (the time between placing an order and receiving delivery from the supplier) is constant and known.
C. Annual demand and consumption for the inventory item is constant throughout the year.
D. All of the above
Which of the following is the cost for the purpose of Economic order quantity (EOQ)?
A. The annual holding cost per item per annum
B. The annual ordering costs
C. Both A&B
D. None
The order quantity that minimize the total annual cost of ordering the item with the cost of holding it ina store is called the economic order quantity.
True
False
ABC analysis divides an organization's on-hand inventory into three classes based upon
(A).unit price
(B). annual dollar values       
(C). annual demand
(D). the number of units on hand
In EOQ model the equation (Q/2) × CH is used to calculate which one of the followings;
A. The number of orders each year
B. Total ordering costs each year
C. The total holding costs each year
D. All above
What does FIFO mean in inventory management system?
(a) First In First Out
(b) Fabrications Inward Fabrications Outward
(c) Final Input Final Output
(d) Finished stock In Finished stock out
(e) None of these
In the economic order quantity model the equation D/Q calculate which one of the followings;
A. The total holding costs each year
B.  Total ordering costs each year
C. The number of orders each year
D. All above
In the economic order quantity model the equation (D/Q) × CO calculate which one of the followings;
A. Total ordering costs each year
B. The number of orders each year
C. The total holding costs each year
D. All above
3. The latest cost of inventories is changed to production but the old prices are changed to inventories on hand?
(a) FIFO
(b) LIFO
(c) Average
(d) Perpetual
If we want to minimize the total cost of holding and ordering inventory using EOQ model, then it is necessary to balance the relevant costs. These are:
A. The variable costs of holding the inventory
B. The fixed costs placing the order
C. Both A&B
D. None
The two-bin system of stores control is one whereby each stores item is kept in two storage bins.
Correct
Incorrect
In the ABC method materials are classified A, B or C according to their expense. group A is considered as expensive, group B is considered as the medium-cost and group C is considered as the inexpensive materials.
Incorrect
Correct
The EOQ can be calculated by using the which one of the followings;
E. Graph
F. Table
G. Formula
H. All of the above
According to Economic order theory average inventory held is equal to one half of the reorder quantity.
A. Correct
B. Incorrect
Supply lead time is the time between placing a new order with a supplier and receiving the delivery of the purchased items. The length of this supply lead time might be uncertain and might be several days, weeks or even months.
A. The above is statement is correct
B. The above statement is incorrect
The time period between placing an order and its receipt in stock is known as
a. Carrying time
b. Lead time
c. Shortage time
d. Over time
Re-ordering level is calculated by the formula
a. Minimum consumption rate x Minimum re-order period
b. Maximum consumption rate x Minimum re-order period
c. Maximum consumption rate x Maximum re-order period
d. Minimum consumption rate x Maximum re-order period
Average stock level can be calculated by the formula
A. Maximum stock level + ½ of Re-order level
B. Minimum stock level + 1/3 of Re-order level
C. Maximum stock level + 1/3 of Re-order level
D. None of these
An increase in inventories indicates that?
(a) Not all purchases were cash
(b) Less merchandise was purchased then sold to the customer
(c) More merchandise was purchased then the amount sold to customer
(d) Cash payments were more than purchases on account
inventory shrinkage is recorded when….?
Inventory shrinkage is recorded when you want to reconcile your sitting inventory with your inventory records. If you find less on your shelves than your accounting reflects you've sold, you've got shrinkage.
Ending inventory is made up of the oldest purchases when a company uses?
A. FIFO
B. LIFO
C. Average costing method
D. None of these
When the perpetual inventory system is used, the inventory sold is debited to?
a) supplies expense
b) merchandise inventory
c) cost of merchandise sold
d) none of these
when the perpetual inventory system is used, the inventory sold is debited to?
a) supplies expense
b) merchandise inventory
c) cost of merchandise sold
d) none of these
when is a physical inventory usually taken?
a. When goods are not being sold or received
b. When the company has its greatest amount of inventory
c. When the company has its greatest amount of inventory and at the end of the company's fiscal year
d. At the end of the company's fiscal year
What is the objective of inventory management?
"The objectives of inventory management is to provide the desired level of customer service, to allow cost-efficient operations, and to minimize the inventory investment."