By: Prof. Fazal Rehman Shamil
Last modified on May 4th, 2020
Write a C++ program to print the hollow square or rectangle star pattern using the inline function.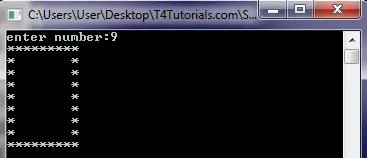 The inline function inline int T4Tutorials::in() helps to increase the execution time of a program. The programmer can make a request to the compiler to make the inline function as inline int T4Tutorials::in().
Making inline means that compiler can replace the function definitions of inline int T4Tutorials::in() with the place where this function is called w.in();.
The compiler replaces the definition of inline functions at compile time instead of referring function definition at runtime.
1

2

3

4

5

6

7

8

9

10

11

12

13

14

15

16

17

18

19

20

21

22

23

24

25

26

27

28

29

30

31

32

33

inline

int

T4Tutorials

::

in

(

)

if

(

i

==

1

||

i

==

n

||

j

==

1

||

j

==

n

)